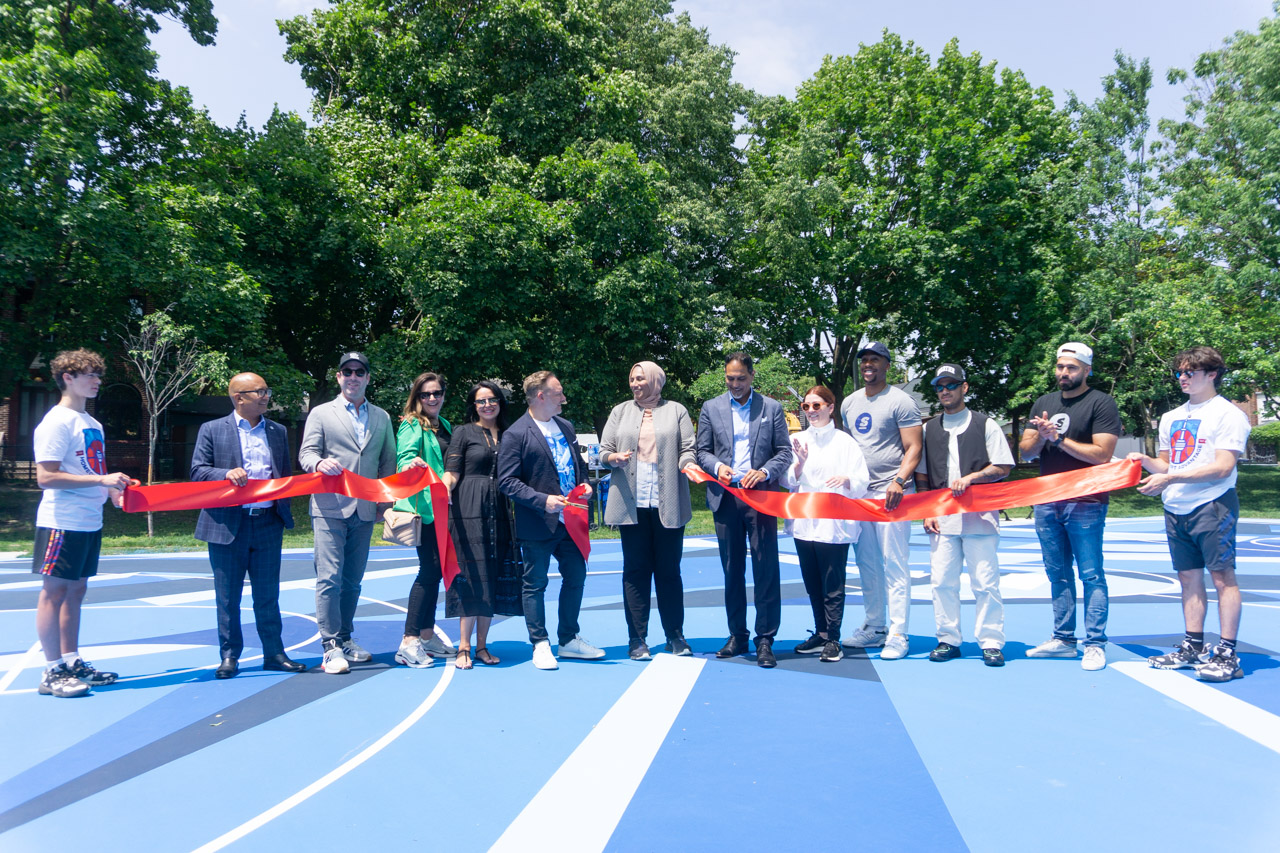 Lifetime and Adidas Canada Celebrate Opening of Revitalized Stanley Park Basketball Court
Lifetime and Adidas Canada Celebrate Opening of Revitalized Stanley Park Basketball Court
It was a beautiful day for basketball yesterday, and Torontonians living on the west side of Downtown were finally able to take to the city's newest court, rebuilt in fine style by Lifetime Developments. Located in the northern section of Stanley Park (on King Street West between Strachan and Niagara), the new and improved court opened yesterday, becoming the inaugural project of Lifetime's charitable program, Homecourt Advantage, developed with the help of their partners, Adidas Canada.
To celebrate this milestone which has been two years in the making, Lifetime hosted an event at the park yesterday afternoon that was attended by members of the Lifetime team, the public, and Toronto City Councillor for Ward 10, Ausma Malik.
"We are thrilled to announce the launch of the brand-new refurbished basketball court in Stanley Park," said Brian Brown, Principal of Lifetime Developments and Chair of the Lifetime Charitable Foundation. "The comprehensive renovations have transformed this space into a hub of community engagement, fostering unity, inspiration, and a shared love for basketball. We all know the importance of outdoor spaces where youth can be active, safe, and social and we could not be happier to see how well our inaugural court under our Homecourt Advantage initiative has turned out."
The newly minted court delivers on its practical function as a space to play basketball, but takes things further in terms of its role in the community, creating a new destination that is distinct and meaningful. The focal point of the project is the mural that has been painted on the court's surface. Designed by acclaimed Toronto-based graphic artist Ben Johnston, the composition is titled 'DREAMERS', and spells the word out in playful bold text across the entire court.
The project saw the full reconstruction of the previous court that occupied this same site in the park for decades. Tearing it all down and starting anew with a rebuilt slab underneath, the updated court enjoys a fresh asphalt surface, new metal net posts, acrylic backboards, and new park benches surrounding the court.
"The vibrant new public art and basketball court revitalization are a welcome addition to our Stanley Park neighbourhood," said Councillor Malik. "Public spaces and high-quality recreational facilities to learn sports, get exercise, and build community bonds benefit residents of all ages, backgrounds, and abilities. Thank you to artist Ben Johnston, and the teams at Lifetime Developments and Adidas for this generous contribution that will serve the community well, and encourage continued improvement to this important local park."
Part of the revenue raised to finance the project comes from Lifetime's annual fundraising event, SMASHED, which took place last week. Bringing sponsors together for a ping pong tournament, this year's proceedings saw a record breaking $625,000 earned in donations.
Source: Urban Toronto